Can professional fighters compete at the USMTO?
No, the USMTO defines an "amateur" as an athlete who has never competed for any money prize or a prize that exceeds the value of thirty-five dollars, or teaches, pursues, or assists in the practice of boxing or mixed martial arts as a means of obtaining a livelihood or pecuniary gain. 
I can't complete my registration because I am getting errors from PayPal - What should I do?
PayPal errors are usually caused by your PayPal account issues, for example: forgotten passwords, usernames, financial institution info, etc.
Double-check that your PayPal account is properly set up then re-submit your payment. If you still have issues then send us an email and we will help you sort it out.
I am paying my team's registration fees (several athletes). How does the USMTO know to apply the mass payment to my athletes only.
If you are paying for multiple registrations, please email usmuaythaiopen@gmail.com with:
1.A copy of your Paypal receipt and
2. The names of the athletes you have registered
We will update your athletes' registrations accordingly.
Will my coach have to register in order to second?
Yes, the coach's must either pre-register online or register in-person. The USMTO will not allow coaches into the facility unless they have registered and paid the registration fee. 
Do I have to take a physical exam?
The USMTO does not require a physical; however, our medical staff will screen you on weigh-in day. 
What should I wear during the weigh-in?
Male althletes must wear shorts and female contestants must wear shorts and at minimum a sports-bra (or similar top). The USMTO prohibits stripping nude.
What happens if I don't make weight?
According to the RULES, if an athlete fails to make weight at the time of the weigh-in, they will have one (1) opportunity to re-weigh if the weigh-in station hasn't closed. Athletes who fail to make weight may request a voluntary transfer (fees apply).
How can I transfer weight divisions?
CLICK HERE to submit your transfer request. Note, you must pay certain fees for requests, but a change within 48 hours of your registration is free.  See the image below for a visual representation.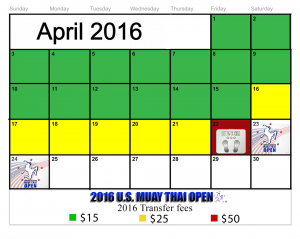 What happens if I am the only person in my weight division?
The USMTO will attempt to place you into an alternate division if your weight allows for it. If your weight doesn't allow for it, you will receive a full refund of your registration fee. See § 2.1.2 of the RULES for more information.
What kind of protective gear will I need?
All competitors must wear a mouthpiece, groin protector (males), open-faced headgear, shin guards, elbow pads; EXCEPT 
Novice class athletes 14 years old and younger must wear body protector
Open class athletes WILL NOT wear a body protector regardless of age. 
Will the tournament provide protective gear or do I have to bring my own?
The USMTO shall provide gloves, a body protector, and elbow pads to all contestants (limited # of headgear provided). The USMTO prohibits contestants from wearing personally owned gloves, body protectors, and elbow pads. Contestants are responsible for all other protective gear.
We strongly advise contestants to wear personally owned open-faced headgear for sanitary reasons and so that they can guarantee a good fit. 
Am I required to wear a body protector?
ONLY NOVICE CLASS athletes 14 YEARS OLD AND YOUNGER will wear body protector.  
Where can I find an open-faced headgear?
Our friends at FIGHTERS INC make a durable, competition-grade headgear that is made to last. You only get one brain, so you should protect it well. The USMTO will also have headgear and other goodies available for you to purchase at the venue.


Why did my weight division close?
The bracketing committee merges empty or near-empty weight divisions or closes the altogether. The committee does this to give you the most opportunities to compete. The committee may re-open weight divisions; however under limited circumstances. See 2.5 -2.6 of the RULES for more information.
I only have 5 fights, but can I still compete in Open Class?
Yes, we call it the "Underdog" Provision. The USMTO considers a novice to be any athlete who has competed in less than 6 sanctioned bouts; however, exceptional novices with three years of experience and who are confident that they are capable of competing against athletes with extensive ring experience may elect to compete in the "Open" class.
The USMTO prohibits athletes with 6 or more sanctioned bouts from competing in the Novice Class. If you have already registered, simply send us an email requesting to join the open class. If you haven't yet registered, simply select "Open Class" from the drop down menu on the registration form then check the declaration boxes below the drop down menu. 
What kind of shorts can I wear?
Are my coach and I required to stay at the Four Points Hotel?
Will I get discount rates for the hotel?
How much are spectator tickets and where can I buy them?
Two-day spectator tickets are available at the venue for a flat rate of $35.