2018 USMTO EAST REGISTRATION DEADLINE IN: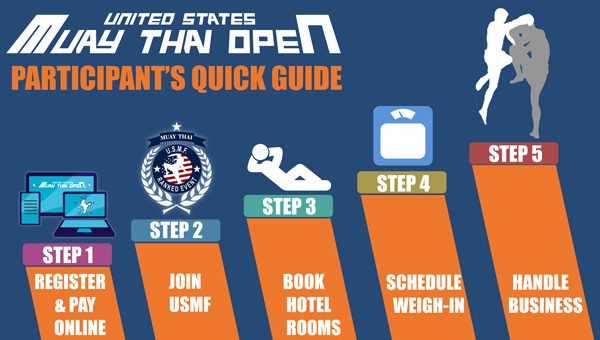 All Registration Deadlines End At 11:59PM Arizona Mountain Time
(GMT-7) On Their Respective Date.
Click here for the Registration Fee Schedule
Launch Special – Register By APR 30, 2018 $59.00

Round One – Register By JUN 31, 2018 

$75.00


Round Two – Register By JUL 31, 2018 

$100.00


Round Three – Register By AUG 28, 2018 

$140.00


Round Four – Register By SEPT 30, 2018 $180.00
(Bracket Consolidation)
Round Five – Register By OCT 15, 2018 

$200.00



Last Call – Registration NOVEMBER 1st, 2018 

$250.00
Begin USMTO Registration Process
A Class = 10+ Bouts         B Class = 4-9 Bouts         C Class = 0-3 Bouts
NOTE: The USMTO may change your Weight Division or Experience Class in order to meet the needs of the Tournament (Involuntary Transfer). You may request a Voluntary Transfer to a different Weight Division or Experience Class at no charge as long as the USMTO receives the request within 48 hours of their event registration.
Coach Registration
The coaches pass is $59 (including the mandatory USMF annual membership fee) or $39 for active USMF members.
The USMF Coach/Corner-man membership will be valid for one calendar year and will allow registered coaches to participate in all USMF events the discounted Coaches Pass rate.  The USMF is the official National Federation of the United States and is primarily responsible for the management and oversight of the U.S. National Team.
Click or Tap Here for Division Transfers
Note, you must pay certain fees for transfers, but a change within 48 hours of your registration is free.
See the image below for a visual representation.