Nak Muay Nation,
Happy New Year to all athletes, coaches, and supporters of the sport nationwide and throughout the world!   As we look back throughout the years, from our first-ever national tournament in 2015, to our most recent Southwest Regional this past December, we can't help but to be proud of all of our accomplishments as a community.
In a lot of ways, 2015 seems like it was just yesterday.  Back then, U.S. athletes had been begging for more quality, organized events on U.S. soil, and the national team, our "best-of-the-best", traveled to Malaysia and struggled for respect abroad.  In 2014, Head Coach Thiago Azeredo led the national team to Malaysia, but when he came back, his excitement had faded as he described a dire situation:
"We were the laughing stock of the world, nobody takes us seriously.  The team struggled because they had not been put to the test – Their growth died at the door to the gym."
Thiago's disappointment was not with the athletes, but rather a lack of resources and  community support.  While still in Bangkok, Thiago pulled together an emergency, overnight, Skype meeting with his team at Siam Fight Productions and during the meeting, he laid out his frustrations and his vision for U.S. redemption.  That night, Thiago and Siam Fight Productions decided to make a bold move; it would divest it's available resources to produce and fully fund the U.S. Muay Thai Open (USMTO), an international tournament featuring the world's top international athletes against our brightest young athletes.  By the time the sun came up, the USMTO mission statement had become clear:
"The USMTO is open to amateur athletes worldwide and it's goal is to prepare U.S. Muay Thai athletes for success in international competitions, to foster solidarity throughout the international Muay Thai community, and to propel Muay Thai towards recognition as a mainstream sport."
PHASE I: Prove Concept (2015)
Over 170 athletes competed in the inaugural event in 2015 and the USMTO received instant international recognition for promoting Muaythai to the "highest recognition."  Several newly crowned champions earned memberships to the national team since the USA Muaythai official team qualifier.  The team, comprised of some USMTO champions, earned the most wins in the teams immediate history –  two Bronze Medals and one Gold Medal.
Those were modest numbers compared to what would soon come.  For example, the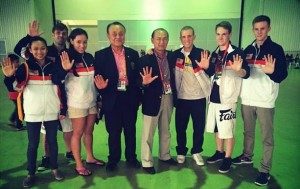 2018 national youth team, arguably the greatest U.S. youth team ever assembled, won the coveted "Best Team" award for winning a record eight Gold Medals, two Silver Medals and two Bronze Medals!  The USMTO proved the concept that athletes who compete at high-level tournaments such as the USMTO raise the bar for U.S. athletes, which in turn raises victorious hands in the ring.   The USMTO was also successful in that for a lot of athletes and coaches, it was the first tournament to truly emphasize international competition and to bring awareness to global trends and sporting initiatives.
PHASE II: 2016-2018
Phase II involved vastly re-investing in sporting and administration technology, funding more events per year, developing athlete safety practices, and improving the athlete and fan experience.  A few key improvements were:
Website re-design
App development (later replaced with a modernized mobile responsive website)
Develop USMTO events in other regions of the country
Venue upgrades
Capital investments in equipment
Improved logistics
Streamlined check-in & weigh-in process
Creation of private warmup areas for VIP Teams
Athlete account management
Statistical tracking
Headache-free bracketing
Live scoring
Funding for national programs
Funding for the national team
Funding for judge and referee courses
Co-development of youth sports leagues
Governance and compliance with international federation safety and competition standards (needed to achieve Olympic recognition)
PHASE III: 2019 – 2022
Our Phase III initiatives are well-underway and will include:
The return to a Phase I ruleset ("Thai Style" competitions), while ensuring youth safety!
Launch of the USMTO Promoter's Institute to teach anyone how to host their own USMTO event in their area. 
Enhanced health Insurance for USMTO athletes
Expanded quarterly events
Expanded youth league competitions
Athlete & coach seminars
Multi-discipline martial arts events
Team grants and rebates $$
Athlete scholarships $$
We believe in setting bold goals.  Early on, many doubters said that we wouldn't achieve anything and we were simply stirring the pot.  We are proud that the pot we stirred has fed thousands of athletes by way of nine high-quality events.  We are just beginning and we need the community to work to keep this pot stirred!  Coaches, you are the glue that keeps the USMTO together.  Without your support and participation we could not have achieved our collective milestones and we will certainly fall short of our objectives.
Register your athletes to compete at the 2020 USMTO West Championships in Phoenix, Arizona and take advantage of low rates.  Also take advantage of the Executive Board's new "USMTO Rewards Program" where coaches and teams can earn rewards based on their active participation in USMTO events!
Also, now is the time to book your private VIP warmup rooms before they sell out.  The same teams usually gobble them up each event because they know the value they add to the tournament experience.  Imagine having a private, peaceful, space with seating and cots for well-rested athletes – with amenities.  Versus a unassigned general warmup area with no room for extra equipment or reserved space for pad holding, stretching, or resting.